About Us
Integrative Wellness & Energy Therapies was founded by Geraldine Hartmayer when she realized there was a need for a place that could help the community heal and find balance. We have been an accredited member of the Better Business Bureau, since 2009.
Geraldine Kerns Hartmayer, RN, CHTP, CHTI, HN, CRM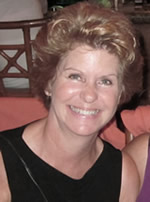 Geraldine (Gerry) Hartmayer is a registered nurse who is a certified Healing Touch Practitioner and Instructor,an international lecturer, a Reiki Master Teacher, and a biofield therapist in private practice since 1998.
She's had 30 years of nursing experience in open heart ICU, orthopedics, oncology, hospice and school nursing. This experience in traditional medicine along with her work within the holistic nursing model and complimentary therapy modalities brings balance and compassion to her nursing practice and her own family's health.
She loves to use laughter, movement, massage, silence and nature as well as Healing to facilitate her own self care.
Geraldine was honored to be on the original committee to bring Healing Touch to the Evansville area in 1997. She is also active in a world organization that is raising the awareness for research and treatment of breast cancer and encouraging the use of biofield therapy to reduce the side effects of chemotherapy.
Memberships
Healing Touch International
American Nurses Association
American Holistic Nurses Association
The Institute of Noetic Sciences
The American Women's Club of the Hague; The Netherlands and FAWCO.
Dana is a Therapeutic Structural Integration Therapist that is well trained, highly skilled and loved by her clients!
Dana is a 2004 graduate of the Therapeutic Massage Program which requires 975 credit hours, 500 hours of Internship, clinicals, medical terminology and Kinesiology (18 credit hours) along with two semesters of Student Teaching.
Dana has been part of the massage staff for four Chicago Marathons, twice with the Avon Walk, and many other events through the years.